YET 160E | THE SUPER E-MTB
WE DON'T PARTY UNTIL THE RACE IS OVER. SO WE TOOK OUR TIME TO DESIGN AN E-MTB THE WAY A YETI E-MTB HAS TO BE DESIGNED: READY TO TOE THE LINE AT EWS-E RACES. MEET THE 160E: THE WORLD'S FIRST RACE SPECIFIC E-MTB.
LIFETIME WARRANTY
WHILE EVERYONE ELSE WAS RACING
TO MAKE AN E-MTB, WE WERE
MAKING AN E-MTB FOR RACING.
A lot happens during the course of a half-decade long development cycle.
The 160E is our most ambitious project yet.
UNPRECEDENTED APPROACH.
UNPRECEDENTED DESIGN.
NEW SUSPENSION PLATFORM
1
Developed specifically for the demands of an e-MTB, Sixfinity brings unprecedented tunability, speed and performance to the 160E
YEARS OF INTENSE DEVELOPMENT
5
With product teams, engineers, and athletes working as a cohesive development unit, this is Yeti at its finest
CUSTOM MOLDS
25
Deeper integration. Intuitive control management. One slick looking
e-MTB.
MULES & PROTOTYPES
6
It takes time to save time. Validation from our test team and racers was essential to the development process from concept mules, to full carbon prototypes.
EVERY TIME I
FIND ITS LIMIT,

I KEEP FINDING MINE.- JARED GRAVES, MULTI-TIME WORLD CHAMPION AND OLYMPIAN
F E A
T U R
E S
INFINITE SUSPENSION
CAPABILITY, REALIZED FOR
THE DEMANDS OF E-MTB.
MEET SIXFINITY.
E-BIKE KINEMATICS.
With the right suspension an e-MTB can do things a pedal bike can't, taking you further, faster. Sixfinity delivers a suspension design that is expertly tuned for the added weight, speed and demands of an e-MTB.
EFFICIENCY AND TRACTION. OPTIMIZED.
At sag, the anti-squat value is lower than our traditional bikes. This is ideal for the greater acceleration and higher speed hits while pedaling on an e-MTB.
TRACTION AND COMPOSURE.
ACHIEVED.
Due to the greater mass of an e-MTB, we reduced the anti-rise magnitude to 65%. Anti-rise remains consistent across the entire travel range, striking a balance for the unique demands of the added weight and power of an e-MTB.
ANTI-RISE %
65 AT SAGA lower magnitude than our traditional pedal bikes.
NOT YOUR AVERAGE "SUPERCHARGED" PEDAL BIKE
Jared Graves EWS-E
COMPOSED, PLANTED, WICKEDLY FAST.
More trails. More laps. More of what you love. Sure, any e-MTB technically delivers "more". More for the 160E is added composure, speed and agility. See also personal bests, wins, and championships.
FAST. BEYOND THE POWER.
The 25Km/h motor limit can be easily outpaced by racers. As a foundational design requirement, the 160E continues to elevate its performance and composure, the faster you go. So much so, Jared Graves has a new favorite bike.
TUNABLE LEVERAGE RATE.
Every track is different. Every racer has their ride preferences. Sixfinity has an adjustable leverage rate progression that provides a dynamic range of suspension feel. All while preserving geometry, anti-squat and anti-rise characteristics, and only a minute impact to wheel travel at +/-2mm.
35%PROGRESSIVITY
Increase bottom out ramp and livelier feel through the travel, ideal for coil shocks
FACTORY
TUNED.
Like every Yeti model, our suspension and engineering teams refine the tune of the shock throughout the entire development process, to fully realize the capabilities of the suspension. Since Sixfinity inherently has a wider pedal zone and adjustable progression rates, our e-MTB tune prioritizes small bump sensitivity.
GLOBAL SUPPORT.
FOR GLOBAL
COMPETITION.
Working with our long-time race partner,
the Shimano EP8 motor and 630-watt hour
battery delivers consistent power to attack
any terrain. Best of all, the system has
hassle free, world-wide support.
SLEEK INTERNAL
WIRING MANAGEMENT.
Integrated, internal wiring delivers a clean look for a zip tie free cockpit.
GUIDING MORE THAN THE CHAIN.
Factory race team sponsor, OneUp Components bridged the gap between our racing and engineering needs. Every 160E comes stock with a custom chain guide to prevent chain derailments and offer rattle-free cable management for mechanical drivetrains.
TRACTION + TRACTION = SPEED
Considering the added power at the rear wheel–for a race specific e-MTB, dual 29" wheels provide more traction, better rollover and ultimately a faster bike.
THAT?"SHORT CHAIN STAYS.
The answer is Sixfinity. Due to the incredibly compact packaging of the Infinity link, the 160E has shorter chain stays that eliminates the lazy-to-turn feel that plagues e-MTB's that utilize suspension designs carried forward from pedal only designs. Without resorting to smaller wheel sizes and leaving traction and speed on the table, our 29" wheel chainstays are shorter than other brands compensating mullet setups.
A SLIGHTLY HIGHER BB.
SAY WHAT?
At 350mm, the 160E's bottom bracket height is a bit higher than our SB150 pedal bike. The slightly higher BB paired with shorter cranks means racers realize the gains of extra pedal strokes.
BUILD KITS
| T1$12,700 | C1$10,100 |
| --- | --- |
| | | |
| --- | --- | --- |
| DETAILS | T1, TURQ series carbon, Shimano XT, Fox Factory GRIP 2 38 Fork | C1, TURQ series carbon, Shimano SLX, Fox Performance 38 Fork |
| FRAME | | |
| FORK | FOX FACTORY 38 GRIP 2/170MM E-Tune | FOX PERFORMANCE 38/170MM E-TUNE |
| MATERIAL | TURQ SERIES | TURQ SERIES |
| WEIGHT | 49.7 | 49.8 |
| TRAVEL | 160mm (6.3″) | 160mm (6.3″) |
| REAR SHOCK | FOX FACTORY FLOAT X2 | FOX PERFORMANCE FLOAT X |
| WHEELSET | DT SWISS EX1700 30MMUPGRADABLE | DT SWISS E1900 30MMUPGRADABLE |
| REAR DER | SHIMANO XT | SHIMANO SLX |
| SHIFT | SHIMANO XT | SHIMANO SLX |
| CRANK | SHIMANO EM900 34T 160MM | SHIMANO EM600 34T 160MM |
| BB | N/A | N/A |
| CASSETTE | SHIMANO XT 10-51 | SHIMANO SLX 10-51 |
| CHAIN | SHIMANO XT | SHIMANO SLX |
| BRAKES | SRAM CODE RSC | SRAM CODE R |
| ROTORS | SRAM CENTERLINE 220/SRAM CENTERLINE 200 | SRAM CENTERLINE 220/SRAM CENTERLINE 200 |
| POST | SRAM REVERB AXS 31.6MM SM: 125MM, MD: 150MM, LG/XL: 170MM | ONEUP DROPPER POST 31.6MM SM: 150MM, MD: 180MM, LG/XL: 210MM |
| FRONT TIRE | MAXXIS ASSEGAI 2.5 EXO+ | MAXXIS ASSEGAI 2.5 EXO+ |
| REAR TIRE | MAXXIS MINION DHR II 2.4 DD | MAXXIS MINION DHR II 2.4 DD |
| HEADSET | CANE CREEK 110 INTEGRATED | CANE CREEK 40 INTEGRATED |
| BAR | YETI CARBON 35X800MM EBIKE | YETI CARBON 35X800MM EBIKE |
| STEM | RACE FACE TURBINE R 35X50MM | RACE FACE RIDE 35X50MM |
| GRIPS | ODI ELITE PRO | ODI ELITE PRO |
| SEAT | SILVERADO CUSTOM | SILVERADO CUSTOM |
| DRIVE UNIT | SHIMANO EP8 | SHIMANO EP8 |
| DISPLAY | SHIMANO EM800 | SHIMANO EM800 |
| CHARGER | SHIMANO E6002 | SHIMANO E6002 |
| BATTERY | SHIMANO 630Wh INTERNAL BATTERY | SHIMANO 630Wh INTERNAL BATTERY |
| ASSIST SWITCH | SHIMANO EM800L | SHIMANO EM800L |
| UPGRADES | DT Swiss EXC 1501 Carbon Wheelset +NOT AVAILABLE OUTSIDE NORTH AMERICA+$900 | DT Swiss EXC 1501 Carbon Wheelset +NOT AVAILABLE OUTSIDE NORTH AMERICA+$900 |
SPEC, PRICE, & WEIGHT INFORMATION IS SUBJECT TO CHANGE.
GEOMETRY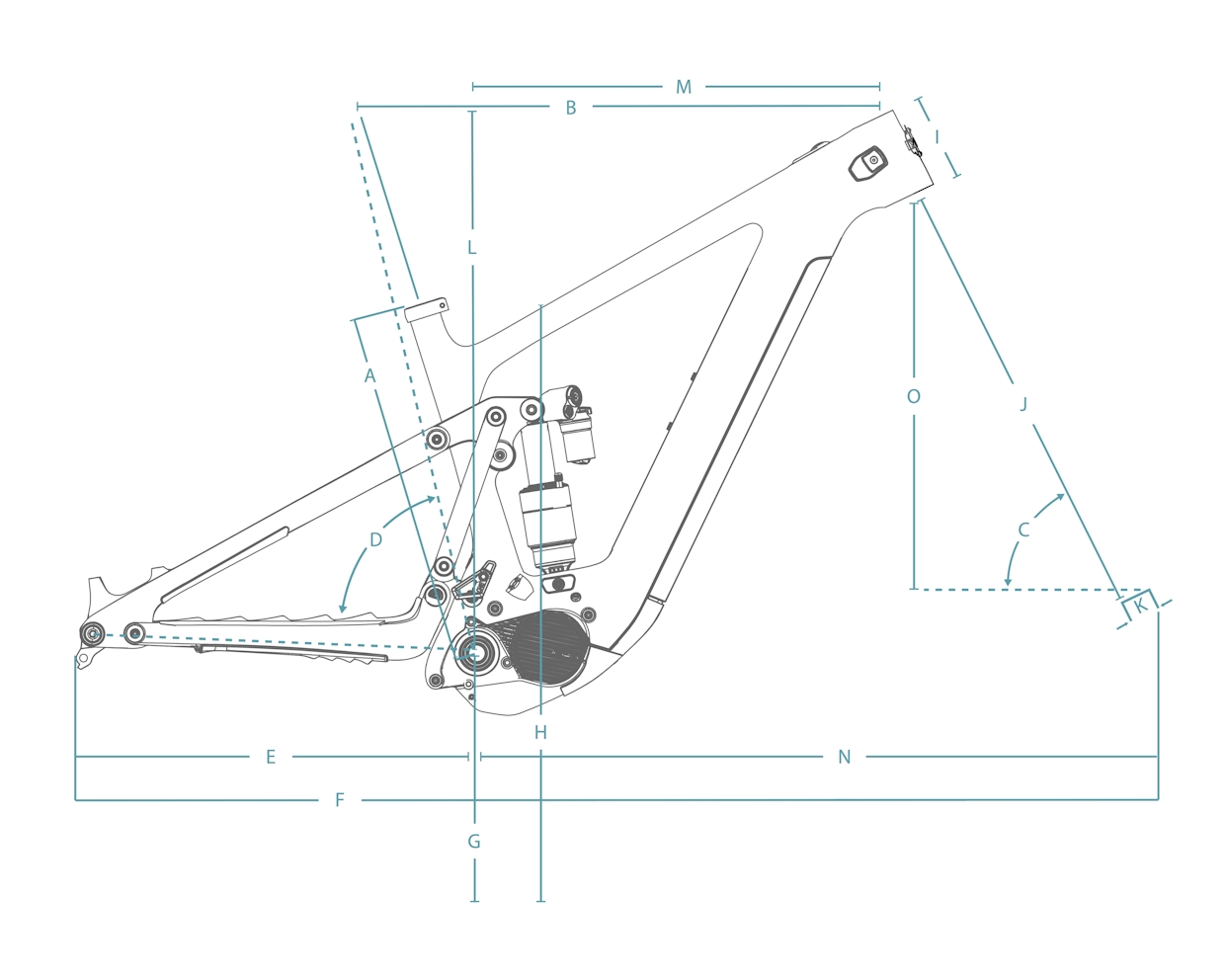 SM
MD
LG
XL
A
SEAT TUBE LENGTH
380.0
410.0
450.0
495.0
B
TOPTUBE LENGTH
560.9
591.8
613.4
641.5
C
HEADTUBE ANGLE
64.5
64.5
64.5
64.5
D
EFF. SEAT TUBE ANGLE
78.0
78.0
78.0
78.0
E
CHAINSTAY LENGTH
446.0
446.0
446.0
446.0
F
WHEELBASE
1208.3
1239.7
1262.1
1291.9
G
ESTIMATED BB HEIGHT
350.0
350.0
350.0
350.0
H
STANDOVER
754.0
754.0
754.0
754.0
I
HEADTUBE LENGTH
95.0
98.3
103.8
114.9
J
AXLE TO CROWN
583.7
583.7
583.7
583.7
K
OFFSET
44.0
44.0
44.0
44.0
L
STACK
617.0
620.0
625.0
635.0
M
REACH
430.0
460.0
480.0
505.0
N
FRONT CENTER
762.3
793.7
816.1
845.9